Services
To most schools and facilities, the gym floor is like the front door. It's what the average person sees and gives them their first impression of the facility. Floor Action, Inc. offers a wide range of services to help our customers to maintain their floors, so that first impression is one of pride.
Installation of wood athletic floors (New facilities or retro-fit)
Floor Action, Inc. is a certified installer of multiple types of athletic flooring surfaces. One of the more common surfaces is maple wood floors. We install dozens of different types of subfloor systems. We provide the best products from both Aacer Wood Flooring and Horner Sports Flooring. These manufacturers are two of the six, MFMA member mills. There is a wide range of subfloor systems, depending on use, and level of play. We help our customers pick the system that is best suited for their particular needs.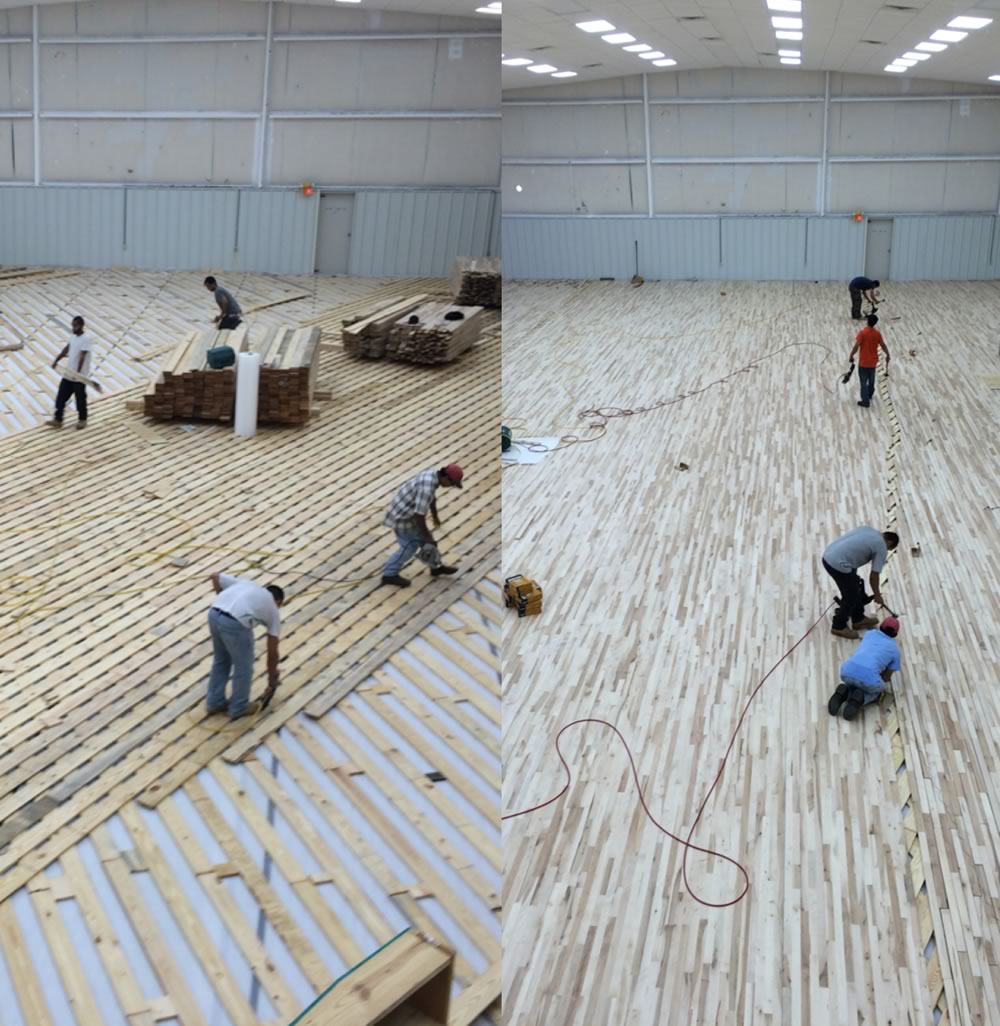 Installation of synthetic athletic floors
Floor Action, Inc. is also a certified installer of synthetic athletic floors, ranging from basic rubber floors for weight rooms, to pad and pour floors and PVC roll floors, both excellent options for gymnasium floors and multi-purpose rooms. We use top of the line products from Moose Sports and Mats, Inc. Synthetic athletic floors are great options for facilities that will be used for more than just athletics. A lot of synthetic athletic floors are produced from recycled material giving your facility a little more environmentally friendly touch.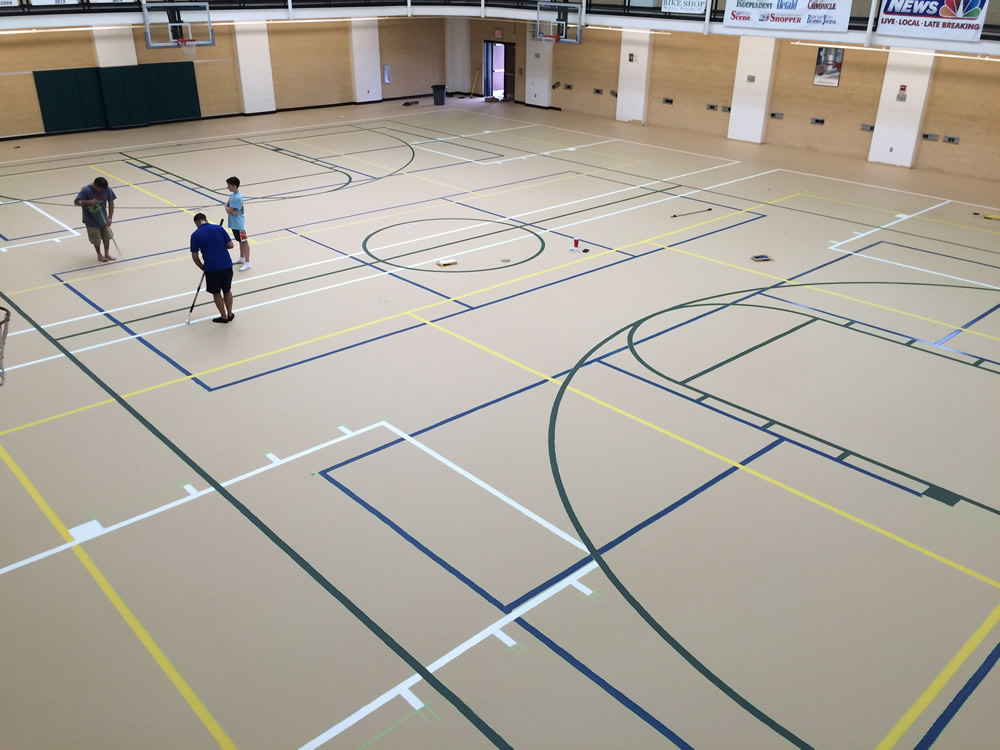 Graphics
Whether it's a wood athletic floor or a synthetic athletic floor, Floor Action, Inc. can paint your existing logo or can help you design a new one. We use a combination of techniques to paint logos - free hand and stenciling - so your logos and lettering are always crisp and clean, giving you a unique look that will make your floor stand out.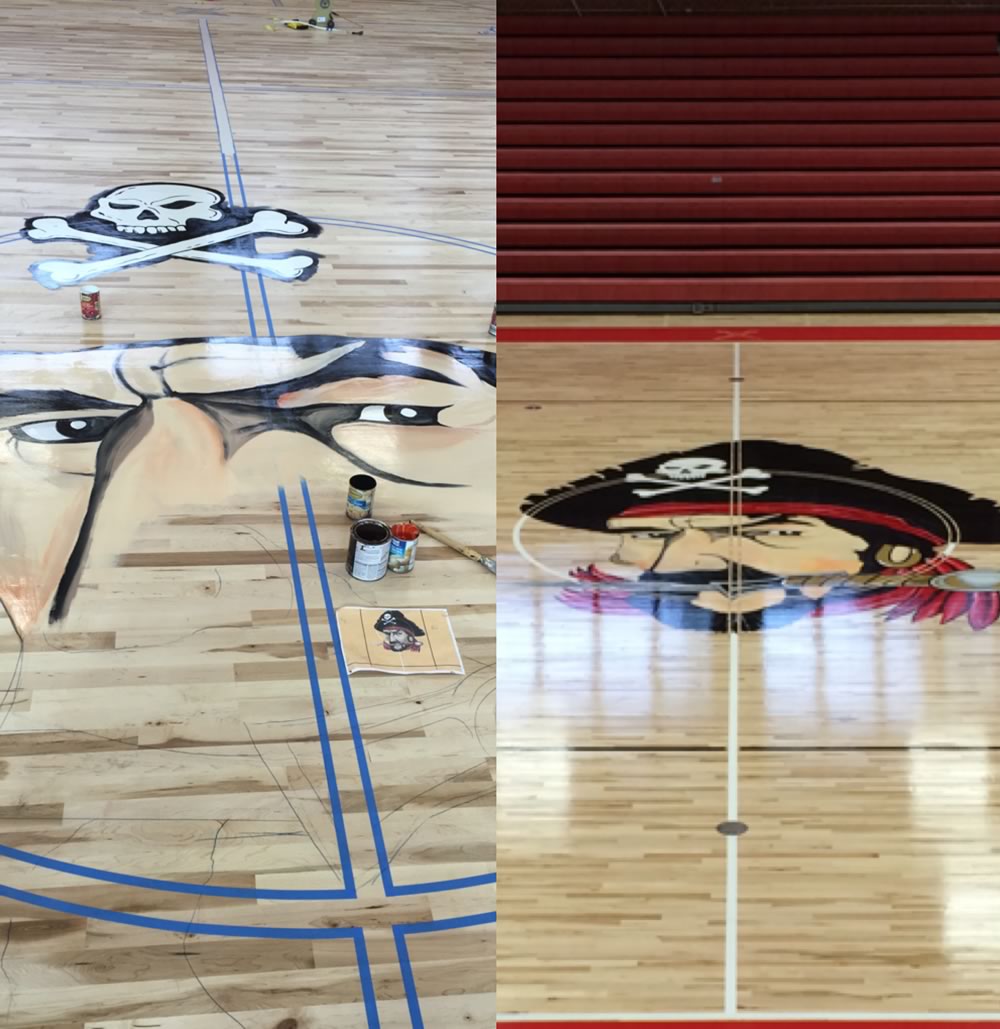 Screening and Re-coating (Annual Maintenance)
Wood athletic floors need to be coated every year to not only protect the paint and the floor itself, but also to provide a safe playing surface for the athletes. Floor Action Inc. screens and re-coats over two million square feet annually. By using properly trained, in house personnel and the highest quality products, your floors should remain durable and safe until the next year's coat.
Sanding and Re-finishing
Wood floors need to be sanded for various reasons. Water/moisture issues will cause a floor to need to be sanded at irregular times. Without unforeseen water/moisture issues, it is recommended that floors be sanded every 8-12 years, depending on need. This could be because floors darken over time from the amber tint of the finish. Or, because a school has designed a new logo or paint scheme. One of the most common reasons to sand a floor is because the finish is peeling. Floor Action, Inc. uses all of the newest equipment as well as techniques, to ensure that your floor is sanded smooth and finished at the highest quality. We have trained our staff on how to properly stain a gym floor, tint finish and dye a gym floor, to achieve all the latest looks and trends.